OCTOBER 16, 2014
REIGNING AUTOZONE LIBERTY BOWL CHAMPS RANKED #1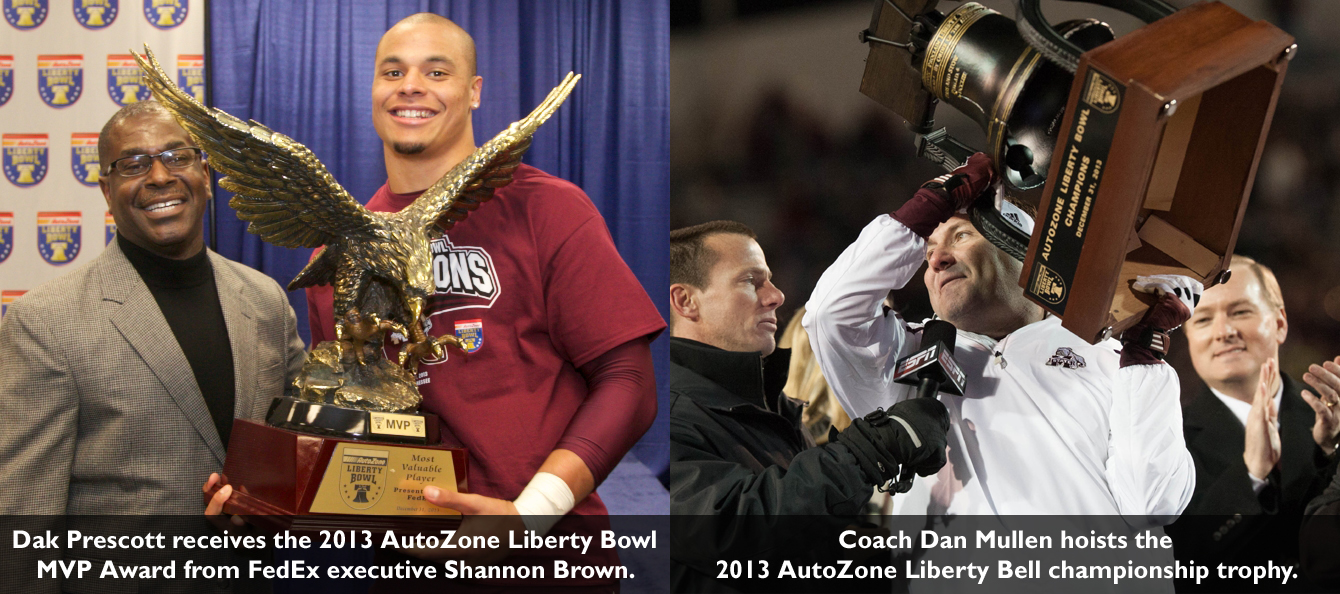 For the first time in school history, the Mississippi State Bulldogs are ranked #1. Thanks to three consecutive wins over top 10 teams and the play of Heisman hopeful Dak Prescott (the 2013 AutoZone Liberty Bowl MVP), the reigning AutoZone Liberty Bowl champions have vaulted from being unranked to the top of the polls over the past 4 weeks.
This is not the first time Coach Dan Mullen has been part of a team that has followed-up an AutoZone Liberty Bowl championship with a memorable season.
In 2003, Coach Mullen was the quarterbacks coach on Urban Meyer's first staff at Utah. That season, the Utes won the Mountain West Conference and defeated Southern Miss in the AutoZone Liberty Bowl. The following year, Utah finished #4 in the polls after an undefeated season that included a win over Big East champion Pittsburgh in the Fiesta Bowl.
Here are some other programs that used their appearance in the AutoZone Liberty Bowl as a springboard for success:
Vanderbilt (2011) - Following their appearance in the 2011 AutoZone Liberty Bowl, the Commodores recorded their first back-to-back 9-win seasons and back-to-back Top 25 finishes in program history in 2012 and 2013.
Georgia (2010) - The Bulldogs recorded back-to-back SEC East titles and back-to-back 10+ win seasons in 2011 and 2012. Georgia finished #19 in AP poll in 2011 and #5 in AP poll in 2012.
Arkansas (2009) - After a dramatic overtime win over East Carolina in the AutoZone Liberty Bowl, the 2010 Razorbacks won 10 games and made their first BCS Bowl (Sugar) appearance in school history. The Hogs finished ranked #12 in both the AP and Coaches polls that season.
Louisville (2004) - After a thrilling win over Boise State in the 2004 AutoZone Liberty Bowl, the Cardinals recorded back-to-back top 20 finishes in 2005 and 2006. In 2006, Louisville won the Big East title and defeated ACC champion Wake Forest in the program's first BCS bowl (Orange) appearance. That season, Louisville finished 12-1 and ranked #5 in the AP poll.
Boise State (2004) - After playing in the 2004 AutoZone Liberty Bowl, Boise State went on to record 7 straight 10+ win seasons and 6 conference championships. The 2006 and 2009 teams recorded undefeated seasons and Fiesta Bowl wins. The 2006 team finished 13-0 and ranked #5 in AP poll while the 2009 squad finished 14-0 and ranked #4 in the AP poll.
Don't miss your chance to see the next great team play in the AutoZone Liberty Bowl. Order your tickets for the 56th AutoZone Liberty Bowl (Dec. 29 at 1pm) by calling 901-795-7700 or visiting www.AutoZoneLibertyBowl.org
BEST WISHES COMMISSIONER SLIVE!
SEC Commissioner Mike Slive announced his retirement this week, effective July 31, 2015. Commissioner Slive has contributed mightily to college athletics over an outstanding and distinguished career.
On behalf of the board of directors and volunteers of the AutoZone Liberty Bowl, we wish Commissioner Slive all the best.
GAMES WE'RE FOLLOWING THIS WEEK:
Saturday, October 18
Baylor at West Virginia

11:00 a.m. CT

Furman at South Carolina

11:00 a.m.

CT

Kansas State at Oklahoma




11:00 a.m.

CT

Kansas at Texas Tech

2:30 p.m. CT

Auburn at Mississippi State

2:30 p.m. CT

Texas A&M at Alabama

3:00 p.m. CT

Georgia at Arkansas

3:00 p.m. CT

Oklahoma State at TCU




3:00 p.m. CT

Missouri at Florida

6:00 p.m. CT

Tennessee at Ole Miss

6:00 p.m. CT

Kentucky at LSU

6:30 p.m. CT

Iowa State at Texas

7:00 p.m. CT
GREAT SEATS ON SALE!
Get your tickets to the 56th AutoZone Liberty Bowl which will be held on December 29 at 1:00 p.m. This year's game will match teams from the SEC and Big 12 Conference. For game tickets, call the AutoZone Liberty Bowl office at 901-795-7700 or visit www.AutoZoneLibertyBowl.org
LINKS:
SEC: Week 8 Notes
Big 12: Week 8 Notes
FOLLOW THE BOWL:
Twitter: @AZOLibertyBowl
Facebook: AZOLibertyBowl
Instagram: autozonelibertybowl
Google+: AutoZoneLibertyBowl
YouTube: AZLBTV
LinkedIn: AutoZone Liberty Bowl
SPECIAL THANKS:
We would like to thank these companies for their support of the AutoZone Liberty Bowl: Worldstrides Heritage Performance, Memphis Area Ford Dealers, Coca-Cola, Wilson Air Center, America's Incredible Pizza Company and Hyatt Place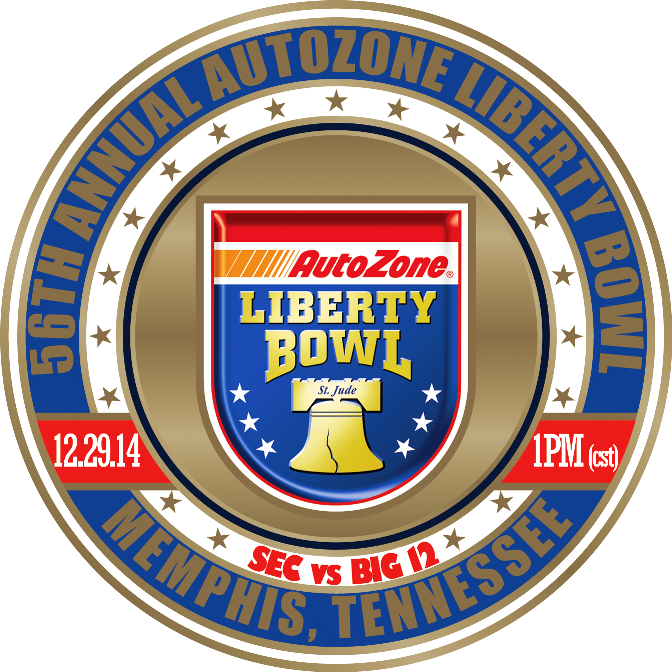 AutoZone Liberty Bowl Football Classic - 959 Ridgeway Loop Road, Suite 101, Memphis, TN 38120 - 901-795-7700 - www.AutoZoneLibertyBowl.org