AutoZone Liberty Bowl to Honor


Tim McCarver


with Distinguished Citizen Award
Event will benefit St. Jude Children's Research Hospital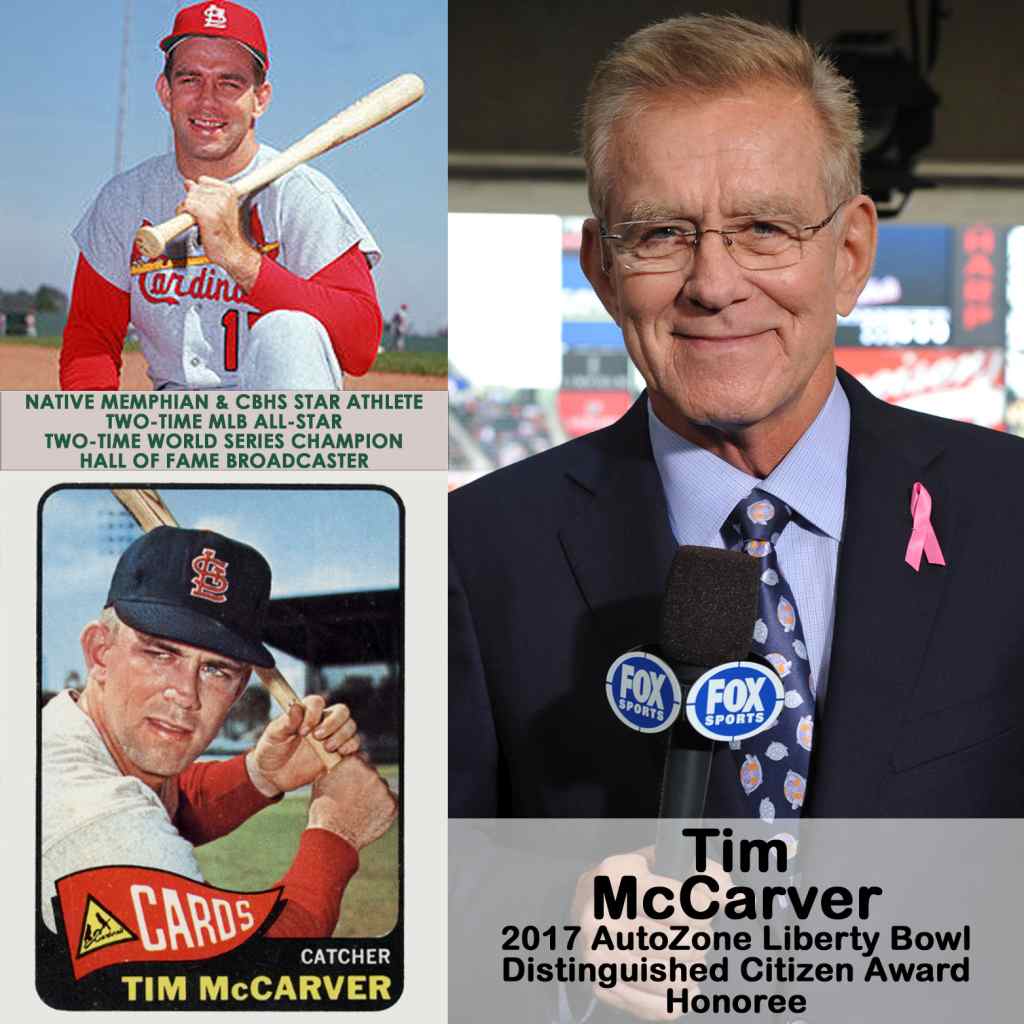 Former St. Louis Cardinals star and Hall of Fame broadcaster Tim McCarver will be the guest of honor and will receive the AutoZone Liberty Bowl's most prestigious recognition, the Distinguished Citizen Award on June 25.

McCarver, who was born in Memphis and attended CBHS, will be here to receive the award on Sunday, June 25 at the Hilton Memphis Hotel. A cocktail reception will begin at 5:30 pm, followed by dinner and the award presentation at 6:30 pm. A live auction and silent auction will also be held during the evening, with 100% of all proceeds going to St. Jude Children's Research Hospital. The 23rd Annual AutoZone Liberty Bowl Golf Classic will be held the following day, Monday, June 26 at Ridgeway Country Club.

"Tim joins a long list of great Americans who have distinguished themselves and reached the pinnacle of their chosen field," said Steve Ehrhart, Executive Director of the AutoZone Liberty Bowl. "We are proud to include Tim among the luminaries who have been honored by the AutoZone Liberty Bowl during our long history."

About Tim McCarver:
Star baseball and football player at Christian Brothers High School in Memphis





Made his Major League Baseball debut with the St. Louis Cardinals at age 17 in 1959





Had a 21-year MLB career that spanned four decades (1950s, 60s, 70s, 80s), including 12 with the Cardinals





Played for St. Louis, Philadelphia, Boston and Montreal





Starred in three World Series with St. Louis (1964, 1967, 1968), winning championships in 1964 and 1967.





Two-time All-Star (1966, 1967)





Is the only MLB analyst to work for all four major broadcast networks - NBC, CBS, ABC and FOX





Provided analysis for a record 23 World Series and 20 All-Star Games





In 2012 was inducted into the National Baseball Hall of Fame as a broadcaster (Ford C. Frick Award)





Recipient of multiple national Emmy Awards as "Best Sportscaster/Analyst"





Four-time best-selling author with "Diamond Gems," "Oh, Baby, I Love it," "Baseball for Brain Surgeons" and, "The Perfect Season."





2017 marks his 4th season of broadcasting with Fox Sports Midwest as an analyst on select St. Louis Cardinals telecasts.




About the Distinguished Citizen Award:


As the 7th oldest bowl game in America, the AutoZone Liberty Bowl was founded on the principles of freedom, patriotism, and liberty. One of the Bowl's time-honored traditions is the annual presentation of the Distinguished Citizen Award. The award has been presented to a cross-section of prominent Americans from a wide range of professions, including military commanders, governors, and congressmen, as well as leaders in business, medicine, education, entertainment, and sports.

Previous honorees include among others St. Jude Children's Research Hospital founder Danny Thomas; U.S. Army General Kenneth Tovo; Nobel Prize recipient Dr. Peter Doherty; FedEx founder Fred Smith; musical legend Elvis Presley; AutoZone founder Pitt Hyde; U.S. Navy Admiral William Lawrence and Holiday Inn founder Kemmons Wilson. McCarver joins other Distinguished Citizen Award recipients from the world of sports, including Paul "Bear" Bryant, Bobby Bowden, Lou Holtz, Tony Dungy, Lee Corso, Darrell Waltrip, Dick Vitale and Archie Manning.

Individual seats for the dinner may be purchased for $75 or a table of ten (10) seats may be purchased for $750. The dinner includes buffet dinner, cocktails, and wine. To reserve a table or individual seat, please call the AutoZone Liberty Bowl at (901) 795-7700 or CLICK HERE TO REGISTER ONLINE.